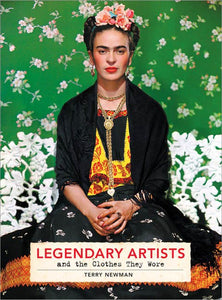 McIntosh Cottage Antiques
Legendary Artist and the Clothes They Wore
Regular price
$35.00
$0.00
Unit price
per
The author of Legendary Authors and the Clothes They Wore now turns to artists in this innovative and unique gift book radiant with forty-five fully illustrated profiles of artists whose work and fashion reflect their idiosyncratic style.
Legendary Artists and What They Wore is a rich, innovative volume for art and fashion lovers alike. Terry Newman examines the work of forty-five legendary artists as it relates to their personal sartorial choices as well as the way in which their art has influenced fashion and lent itself to collaborative work with designers. From Cecil Beaton's flamboyant, classically tailored suits to René Magritte's bowler hat to Julian Schnabel's ubiquitous pajamas. Newman reveals how an artist's creative spirit is reflected through a signature look, hairstyle, or accessory.
Among the dozens of artists profiled in this stunning collection are Jean-Michel Basquiat; William Merritt Chase; Salvador Dali; Marcel Duchamp; Keith Haring; Hannah Hoch; David Hockney; Robert Mapplethorpe; Lee Miller; Louise Nevelson; Georgia O'Keeffe; Frida Kahlo; Henri Matisse; Elizabeth Peyton, Pablo Picasso; Jackson Pollock; Robert Rauschenberg; Egon Schiele; Julian Schnabel; Cindy Sherman, and Andy Warhol. Each entry contains a mix of anecdotes, portraits of the artists in their studios with their work, self-portraits, and runway imagery. All are accompanied by quotations from the artists, art and fashion critics, and designers, and little-known facts about the artist's themselves Also included are entertaining sidebars grouping artists thematically, from those who wear signature hats to those who sport distinctive eyeglasses.
Newman looks at the connection between art and fashion that goes back a century. To appeal to a younger audience as well as trend-setters, legacy brands have collaborated with fine artists and other designers. The book examines these artful influences and relationships: Kanye West's work with Vanessa Beecroft on Yeezy; Douglas Hannant's sequined dresses influenced by Jean Michel Basquiat's paintings; and Riccardo Tisci's relationship with a muse, performance artist Marina Abramovic, who he featured in Givenchy print advertising during his tenure thereBut these partnerships are not exclusive to our time. The book also looks at the way in which Elsa Schiaparelli collaborated with Jean Cocteau and Salvador Dali on trompe l'oeil dresses and hatts, and how Piet Mondrian's geometric, primary-colored paintings fueled the creation of Yves Saint Laurent's now iconic collection of shift dresses in the 1960s.
Using beautiful portraits, artwork, and fashion photography Newman offers a fresh look at art and fashion that illuminates the connection between both creative forms and deepens our understanding of these two influential aspects of culture.
Legendary Artists the Clothes They Wore contains 34 black-and-white and 53 full-color photographs throughout.
About the contributor(s):
Terry Newman worked in the fashion industry for more than twenty-five years, both as an editor at i-D, Attitude and Self Service, and as a contributing writer for newspapers, including The Guardian, Independent, The Times, and the Sunday Times. She has also written and presented fashion programs in the United Kingdom for Channel 4 (She's Gotta Have It and Slave). The author of Legendary Authors and the Clothes They Wore, she has contributed to books including i-D's Fashion Now, Fashion Now 2, and Soul i-D. She currently lectures at the University for the Creative Arts in Epsom, England, and lives in London with her husband and two children.
---
Share this Product
---